A Leader's Guide – How to Build a Thriving Workplace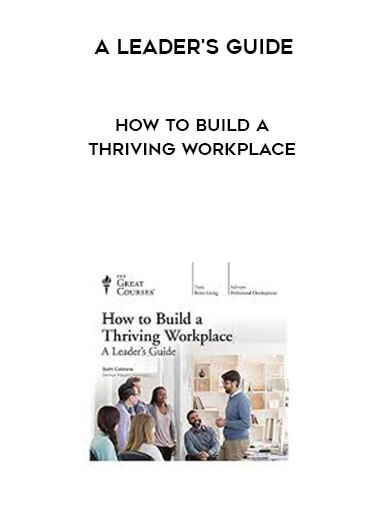 A Leader's Guide – How to Build a Thriving Workplace
Arichive : A Leader's Guide – How to Build a Thriving Workplace
12xWEBRip | English | MP4 + PDF Guide | 1280 x 720 | AVC ~1904 kbps | 29.412 fps
AAC | 96 Kbps | 44.1 KHz | 2 channels | 06:35:03 | 5.55 GB
Genre: eLearning Video / Business, Job, Self Improvement
Recent studies reveal that employee well-being is associated with higher productivity, higher retention rates, and lower health-care costs. Multiple studies show a clear link between businesses that attend to employee well-being and a profitable bottom line.
In fact, the profit of companies with the strongest focus on employee experience is about four times higher than the average. And yes, you read that correctly-not customer experience, but employee experience. Because if you take care of your employees, they will take care of your customers-and your shareholders will do well, too.
In 12 half-hour lectures, How to Build a Thriving Workplace: A Leader's Guide will show you how to identify and implement relatively simple and inexpensive changes to improve your employees' work environment and positively impact your bottom line. Professor Beth Cabrera, organizational psychologist and Senior Scholar at the George Mason University Center for the Advancement of Well-Being, provides a step-by-step guide to creating the best possible work environment for your employees
Even though the steps Professor Cabrera provides are accessible, effective, and often low-cost, you'll discover that creating a truly employee-focused environment in your organization isn't something you can delegate to an isolated department or ad hoc committee. In this course, you'll learn why leading by example is your only way to develop a more engaged and thriving workforce. The good news is that you, too, will benefit from a greater sense of well-being and increased productivity. While created for the workplace, there are dozens of take-aways that can help you find peace and well-being, and help you to thrive in any environment on a personal level, as well.
What Doesn't Work-You'll Be Surprised
For a long time, there was a general concensus concerning what the most productive workforce looks like. Employees arrive early and leave late. They are always at their stations when you need them, not chatting in the break room or on vacation. If an employee's child becomes ill during the workday, arrangements are made for someone else to care for the child, so the parent can stay at work. When leadership feels the need to praise employee effort, a plaque or the occasional potluck lunch should do the trick.
But the results of recent workplace studies paint a radically different picture. In How to Build a Thriving Workplace: A Leader's Guide, you'll be surprised to learn that these old "absolutes" are simply not true and could be working against your best interest. Many of the traditional ways of running a business and managing a workforce have been reassessed, and much of what actually works is less about time and place, and more about employee engagement and happiness. For example, studies have revealed that:
More hours in the office do not necessarily result in greater productivity. In fact, working too many hours without a break reduces productivity.
Allowing employees to work at home does not actually lower productivity.
Taking time off regularly doesn't indicate an employee is less dedicated. Employees who are able to strike a better balance between work and rest are often more efficient and productive.
Multi-tasking will most often result in lowered efficiency and higher stress levels. Prioritizing and completing tasks one at a time is a much more effective method.
Contrary to what people may believe about "distractions" at work, it has been shown that healthy friendships and bonds with coworkers promote a better, more productive work environment.
Salary is not the sole determining factor of turnover. Many things-environment, expectations, structure, etc.-can equally affect how you obtain and maintain talent.
What Does Work-The How and Why
If our old model for the most productive workforce is no longer valid, what's the new model? What are the parameters for a thriving, productive, and innovative workforce-and how do we really know?
The old model was based on gut instinct and what seemed-at the time-to be common sense. But the new model was developed using the scientific principles of positive psychology and the results of dozens of studies conducted over the past two decades.
Positive psychology is not pop psychology-popular "how to's" that have no basis in scientific study. Positive psychology was born at the end of the 20th century when some psychologists turned their scientific methods away from the study of pathologies to examine the other side of the human experience-thriving. In the two decades since, there has been an explosion of research on topics including happiness, gratitude, optimism, strengths, flow, meaning, and relationships.
When the research of positive psychology is applied to the workplace, we learn what employees really need to thrive and the steps leaders can take to bring that about-based not on gut instinct, but on solid data.
Thriving and Well-Being
Thriving and well-being can feel like nebulous terms. While psychologists have many definitions for these multi-dimensional concepts, well-being can generally be defined as a mental state characterized by positive feelings and positive functioning. When we are thriving-when we have a great "amount of" well-being-we are at our best. At work, we are more creative, more productive, and more engaged.
This course examines a variety of factors that have been proven to increase employees' well-being and productivity-and your bottom line. They include:
Mindfulness: While there's a good chance you've heard of mindfulness to promote focus or achievement, you may not be aware of how mindfulness training can also help you create a thriving work environment in other ways. Mindfulness is about paying attention to what is happening in your own mind, your thoughts and feelings, and what is going on around you-intentionally and without judgment. With mindfulness training, you'll be able to not only better focus on your own work, but to pay better attention to your employees' verbal and non-verbal communication. You'll have a much more accurate picture of your workplace and your employees, and a better understanding of where changes should and can be made.
Attitudes: Positive Outlook, Optimism, Hope, Generosity, and Compassion. These positive attitudes in the workplace have been proven to provide psychological, cognitive, social, and physical health benefits, including resilience. But no one's attitude is more important than yours; the emotions and attitudes of leaders are contagious at work. You'll be surprised to learn the simple but powerful techniques you can use to create a more positive attitude within yourself and among your employees.
Employee Engagement, Autonomy, and the State of Flow. Engagement, autonomy, and the state of flow significantly boost productivity in the workplace. You'll learn what employees need in order to experience these states for enhanced performance, and how a few simple workplace changes can help create a supportive environment.
Relationships. Humans have a biological need to feel connected to other people, to feel understood, recognized, and affirmed. Our relationships with other people are at the heart of thriving, contributing to our health and happiness at home and in the workplace. Learn what you can do to create an environment that fosters positive relationships and also improves productivity.
How to Build a Thriving Workplace: A Leader's Guide will give you all the information you need to transform your workplace into an attractive and thriving environment. In the process, not only will your bottom line improve, but so will the lives of your employees-and your own life, as well
Includes:
0: Course trailer
1: Workplace Well-Being: The New Frontier
2: Mindfulness at Work: The Power of Presence
3: Positive Outlook, Positive Performance
4: Fostering Employee Optimism and Hope
5: The Advantage of Workplace Relationships
6: Encouraging Generosity and Compassion
7: Creating an Inspiring Learning Environment
8: Engaging Your Workforce: The Power of Flow
9: The Need for Meaning: Making Work Matter
10: Promoting Workplace Resilience
11: Strategies for Employee Health
12: Autonomy: Empowering Employees to Succeed